Giving Transforms You!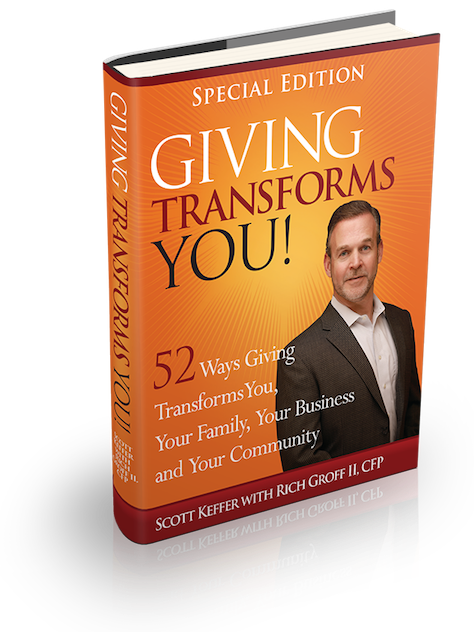 One simple action holds the power to transform you personally — your attitude, your perspective and even your financial life. It also holds the power to transform your family, your friends, your business, your colleagues, your community…and more.
The greatest act that any human being can engage in is the simple act of giving. It transforms…instantly. This book will be entertaining, empowering and encouraging as you take a journey through 52 principles of giving and 52 enlightening quotes from some amazing people throughout history. Read this book and you will discover new (and possibly profitable) ways to give. Read this book and you will remember the power of this simple act. Read this book and you will be transformed. Then give it to someone you care about!
Coming Soon
7 Costly Mistakes Even Wealthy Entrepreneurs Make …And How to Avoid Them
Are you an entrepreneur? Are you willing to take risks to start a business? Are you prepared to sacrifice your income in hopes of making money and creating jobs down the road?
This book is focused towards the entrepreneur who is a self-driven, optimistic, and fearless person. You have a can-do attitude and the survival skills to carry out your vision. And you possess a good amount of self-confidence. I like to say successful entrepreneurs walk by faith and not by sight.
So yes, Rich is an entrepreneur and therefore understands them better than most! In this book he shares from his own personal experiences as well as those of some of his most successful clients. You won't want to miss reading this book if you are an entrepreneur or know one.
*All profits from the sale of Rich's book will be donated to Basel Cell Carcinoma Nevus Syndrome Life Support Network
Arizona Office

23131 N. Lake Pleasant Pkwy.




Peoria, AZ 85383

Phone: 623-399-6180

All Mail:




24654 N. Lake Pleasant Pkwy #103-415




Peoria, AZ 85383
Florida Offices

5237 Summerlin Commons Blvd. Ste. #447

Fort Myers, FL 33907

.

1415 Panther Lane Ste. #517
Naples, FL 34109
Phone:

239-544-3700


(NOTE: Jupiter location coming soon!)
Montana Office

50242 US Hwy. 93 Ste. #7




Polson, MT 59860


Phone:

406-221-3606
Contact Information

Toll Free:

1-888-858-4996


Email:

Kathy@legacyplan4u.com

Resources


www.TheMoneyMD.com